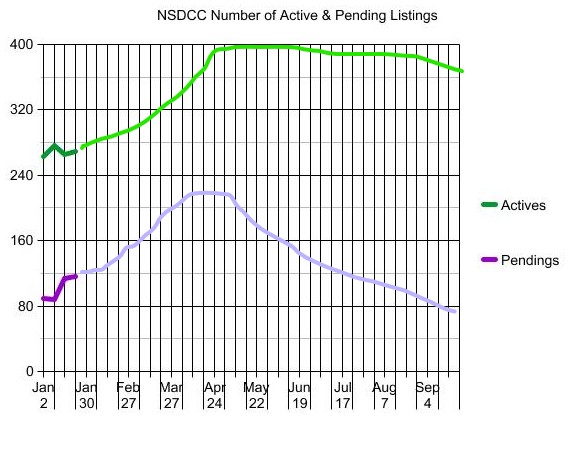 The graph above is boring at this time of year, so I added my predictions in the lighter colors. I'm figuring that the Fed will be relentless and the higher rates in the second half of the year will cause the pricing gap between sellers and buyers to be tougher to bridge.
It's because there will be some decent sales in April and May that keep sellers optimistic that the perfect buyers are coming tomorrow….or next week….or well, heck, let's just wait until 2024.
Here is the graph from last year:
For our contest participants, there are 120 new listings this month – and we've had 36 new listings every week for the last three weeks. it means ourcontest should wind up around 170-180 listings?
The $0 – $1,500,000 Market:
| | | | | |
| --- | --- | --- | --- | --- |
| date | NSDCC Active Listings | Avg. LP/sf | Avg. DOM | # of Pendings |
| Jan. 2, 2023 | 22 | $719/sf | 75 | 15 |
| Jan 9 | 26 | $687/sf | 50 | 14 |
| Jan 16 | 23 | $701/sf | 52 | 20 |
| Jan 23 | 25 | $751/sf | 60 | 21 |
The $1,500,000 – $2,000,000 Market:
| | | | | |
| --- | --- | --- | --- | --- |
| date | NSDCC Active Listings | Avg. LP/sf | Avg. DOM | # of Pendings |
| Jan. 2, 2023 | 45 | $809/sf | 60 | 18 |
| Jan 9 | 55 | $828/sf | 53 | 19 |
| Jan 16 | 46 | $838/sf | 53 | 30 |
| Jan 23 | 43 | $793/sf | 52 | 31 |
The $2,000,000 – $3,000,000 Market:
| | | | | |
| --- | --- | --- | --- | --- |
| date | NSDCC Active Listings | Avg. LP/sf | Avg. DOM | # of Pendings |
| Jan. 2, 2023 | 52 | $869/sf | 69 | 30 |
| Jan 9 | 57 | $940/sf | 66 | 31 |
| Jan 16 | 50 | $948/sf | 61 | 36 |
| Jan 23 | 51 | $949/sf | 58 | 35 |
The $3,000,000 – $4,000,000 Market:
| | | | | |
| --- | --- | --- | --- | --- |
| date | NSDCC Active Listings | Avg. LP/sf | Avg. DOM | # of Pendings |
| Jan. 2, 2023 | 29 | $1,236/sf | 85 | 6 |
| Jan 9 | 29 | $1,180/sf | 80 | 5 |
| Jan 16 | 31 | $1,196/sf | 73 | 8 |
| Jan 23 | 33 | $1,201/sf | 71 | 7 |
The $4,000,000+ Market:
| | | | | |
| --- | --- | --- | --- | --- |
| date | NSDCC Active Listings | Avg. LP/sf | Avg. DOM | # of Pendings |
| Jan. 2, 2023 | 121 | $1,744/sf | 126 | 21 |
| Jan 9 | 119 | $1,716/sf | 123 | 20 |
| Jan 16 | 120 | $1,761/sf | 121 | 26 |
| Jan 23 | 122 | $1,707/sf | 119 | 27 |
NSDCC Weekly New Listings and New Pendings
| | | | | |
| --- | --- | --- | --- | --- |
| week | New Listings | New Pendings | Total Actives | Total Pendings |
| Jan. 2, 2023 | 11 | 6 | 263 | 89 |
| Jan 9 | 36 | 15 | 277 | 88 |
| Jan 16 | 36 | 34 | 266 | 114 |
| Jan 23 | 36 | 22 | 269 | 116 |
For previous years, click here:
https://www.bubbleinfo.com/category/inventory/