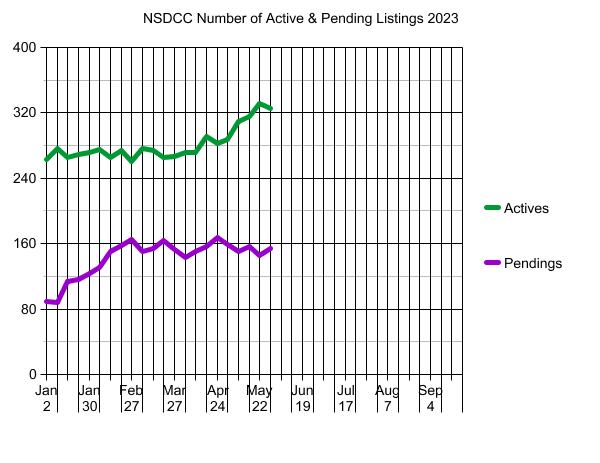 The stacking up of unsold listings took a breather this week.
It was the best week of May for both the lowest number of new listings (43) and most new pendings (37), which is remarkable, considering it was a graduation/holiday week for many. Hopefully it's a sign that the next two weeks will be very productive!
As long as the pendings count stays in a tight range (like it has since February), and the higher-end market continues to flow, there aren't any big concerns. The listings and sales below aren't directly related because some of the closed sales were listings from 2022, but it shows that the higher-end market is doing well:
Generally-speaking, the NSDCC pricing has been fairly steady too: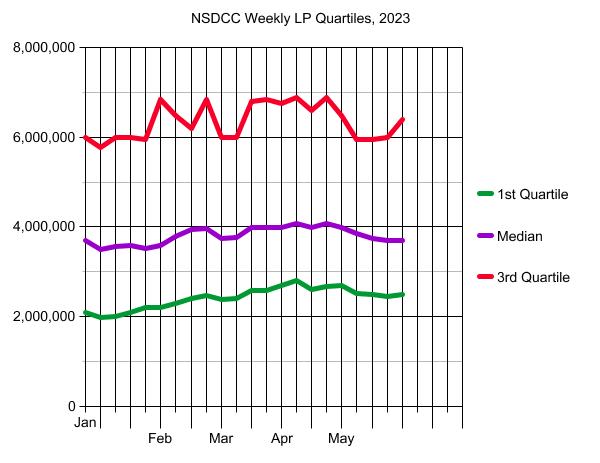 Grab a house before you go on vacation!
The $0 – $1,500,000 Market:
| | | | | |
| --- | --- | --- | --- | --- |
| date | NSDCC Active Listings | Avg. LP/sf | Avg. DOM | # of Pendings |
| Jan. 2, 2023 | 22 | $719/sf | 75 | 15 |
| Jan 9 | 26 | $687/sf | 50 | 14 |
| Jan 16 | 23 | $701/sf | 52 | 20 |
| Jan 23 | 25 | $751/sf | 60 | 21 |
| Jan 30 | 23 | $788/sf | 45 | 25 |
| Feb 6 | 18 | $750/sf | 59 | 24 |
| Feb 13 | 18 | $770/sf | 48 | 26 |
| Feb 20 | 17 | $778/sf | 49 | 26 |
| Feb 27 | 18 | $802/sf | 48 | 23 |
| March 6 | 22 | $802/sf | 44 | 14 |
| Mar 13 | 22 | $747/sf | 45 | 16 |
| March 20 | 16 | $826/sf | 49 | 21 |
| March 27 | 17 | $853/sf | 47 | 20 |
| Apr 3 | 19 | $803/sf | 37 | 20 |
| Apr 10 | 11 | $778/sf | 53 | 30 |
| Apr 17 | 15 | $690/sf | 44 | 27 |
| Apr 24 | 12 | $682/sf | 33 | 25 |
| May 1 | 11 | $795/sf | 35 | 27 |
| May 8 | 14 | $780/sf | 33 | 24 |
| May 15 | 16 | $770/sf | 37 | 22 |
| May 22 | 21 | $747/sf | 45 | 18 |
| May 29 | 20 | $757/sf | 52 | 21 |
The $1,500,000 – $2,000,000 Market:
| | | | | |
| --- | --- | --- | --- | --- |
| date | NSDCC Active Listings | Avg. LP/sf | Avg. DOM | # of Pendings |
| Jan. 2, 2023 | 45 | $809/sf | 60 | 18 |
| Jan 9 | 55 | $828/sf | 53 | 19 |
| Jan 16 | 46 | $838/sf | 53 | 30 |
| Jan 23 | 43 | $793/sf | 52 | 31 |
| Jan 30 | 40 | $778/sf | 54 | 34 |
| Feb 6 | 42 | $814/sf | 46 | 30 |
| Feb 13 | 35 | $823/sf | 51 | 39 |
| Feb 20 | 34 | $801/sf | 47 | 40 |
| Feb 27 | 27 | $846/sf | 33 | 45 |
| March 6 | 29 | $893/sf | 33 | 41 |
| Mar 13 | 32 | $850/sf | 33 | 39 |
| March 20 | 27 | $872/sf | 36 | 41 |
| March 27 | 22 | $832/sf | 39 | 36 |
| Apr 3 | 21 | $779/sf | 27 | 36 |
| Apr 10 | 22 | $816/sf | 26 | 33 |
| Apr 17 | 27 | $797/sf | 21 | 33 |
| Apr 24 | 28 | $856/sf | 31 | 34 |
| Apr 24 | 28 | $856/sf | 31 | 34 |
| May 1 | 30 | $789/sf | 28 | 36 |
| May 8 | 36 | $808/sf | 25 | 37 |
| May 15 | 33 | $776/sf | 33 | 44 |
| May 22 | 35 | $818/sf | 36 | 44 |
| May 29 | 38 | $786/sf | 33 | 40 |
The $2,000,000 – $3,000,000 Market:
| | | | | |
| --- | --- | --- | --- | --- |
| date | NSDCC Active Listings | Avg. LP/sf | Avg. DOM | # of Pendings |
| Jan. 2, 2023 | 52 | $869/sf | 69 | 30 |
| Jan 9 | 57 | $940/sf | 66 | 31 |
| Jan 16 | 50 | $948/sf | 61 | 36 |
| Jan 23 | 51 | $949/sf | 58 | 35 |
| Jan 30 | 54 | $964/sf | 55 | 34 |
| Feb 6 | 60 | $930/sf | 51 | 42 |
| Feb 13 | 51 | $1,038/sf | 52 | 47 |
| Feb 20 | 58 | $1,022/sf | 47 | 46 |
| Feb 27 | 56 | $1,064/sf | 52 | 49 |
| March 6 | 57 | $995/sf | 50 | 50 |
| Mar 13 | 55 | $1.015/sf | 53 | 47 |
| March 20 | 50 | $1,011/sf | 58 | 50 |
| March 27 | 54 | $1,039/sf | 49 | 47 |
| Apr 3 | 54 | $1,035/sf | 52 | 38 |
| Apr 10 | 55 | $1,004/sf | 48 | 42 |
| Apr 17 | 64 | $985/sf | 47 | 46 |
| Apr 24 | 57 | $1,001/sf | 43 | 50 |
| May 1 | 57 | $1.008/sf | 42 | 45 |
| May 8 | 68 | $1,031/sf | 36 | 41 |
| May 15 | 71 | $1.007/sf | 34 | 39 |
| May 22 | 77 | $1.003/sf | 34 | 38 |
| May 29 | 74 | $1,002/sf | 39 | 43 |
The $3,000,000 – $4,000,000 Market:
| | | | | |
| --- | --- | --- | --- | --- |
| date | NSDCC Active Listings | Avg. LP/sf | Avg. DOM | # of Pendings |
| Jan. 2, 2023 | 29 | $1,236/sf | 85 | 6 |
| Jan 9 | 29 | $1,180/sf | 80 | 5 |
| Jan 16 | 31 | $1,196/sf | 73 | 8 |
| Jan 23 | 33 | $1,201/sf | 71 | 7 |
| Jan 30 | 37 | $1,218/sf | 70 | 6 |
| Feb 6 | 34 | $1,236/sf | 75 | 12 |
| Feb 13 | 43 | $1,333/sf | 68 | 11 |
| Feb 20 | 39 | $1,392/sf | 71 | 18 |
| Feb 27 | 37 | $1,323/sf | 68 | 22 |
| March 6 | 49 | $1,222/sf | 56 | 20 |
| Mar 13 | 49 | $1,312/sf | 49 | 22 |
| March 20 | 46 | $1,321/sf | 52 | 25 |
| March 27 | 50 | $1,329/sf | 52 | 25 |
| Apr 3 | 49 | $1,342/sf | 51 | 23 |
| Apr 10 | 50 | $1,321/sf | 57 | 24 |
| Apr 17 | 47 | $1,342/sf | 59 | 26 |
| Apr 24 | 49 | $1,281/sf | 63 | 28 |
| May 1 | 53 | $1,227/sf | 62 | 23 |
| May 8 | 55 | $1,122/sf | 63 | 19 |
| May 15 | 57 | $1,211/sf | 59 | 19 |
| May 22 | 59 | $1,170/sf | 61 | 19 |
| May 29 | 60 | $1,171/sf | 60 | 17 |
The $4,000,000+ Market:
| | | | | |
| --- | --- | --- | --- | --- |
| date | NSDCC Active Listings | Avg. LP/sf | Avg. DOM | # of Pendings |
| Jan. 2, 2023 | 121 | $1,744/sf | 126 | 21 |
| Jan 9 | 119 | $1,716/sf | 123 | 20 |
| Jan 16 | 120 | $1,761/sf | 121 | 26 |
| Jan 23 | 122 | $1,707/sf | 119 | 27 |
| Jan 30 | 120 | $1,680/sf | 121 | 30 |
| Feb 6 | 125 | $1,714/sf | 118 | 28 |
| Feb 13 | 121 | $1,750/sf | 116 | 32 |
| Feb 20 | 129 | $1,725/sf | 112 | 33 |
| Feb 27 | 124 | $1,743/sf | 115 | 31 |
| March 6 | 122 | $1,753/sf | 109 | 28 |
| Mar 13 | 120 | $1,782/sf | 109 | 32 |
| March 20 | 129 | $1,783/sf | 106 | 28 |
| March 27 | 127 | $1,781/sf | 106 | 27 |
| Apr 3 | 131 | $1,774/sf | 105 | 27 |
| Apr 10 | 136 | $1,788/sf | 107 | 24 |
| Apr 17 | 140 | $1,776/sf | 108 | 27 |
| Apr 24 | 141 | $1,771/sf | 107 | 31 |
| May 1 | 142 | $1,760/sf | 105 | 30 |
| May 8 | 140 | $1,737/sf | 104 | 32 |
| May 15 | 141 | $1,812/sf | 107 | 37 |
| May 22 | 145 | $1,816/sf | 106 | 29 |
| May 29 | 142 | $1,846/sf | 110 | 36 |
NSDCC Weekly New Listings and New Pendings
| | | | | |
| --- | --- | --- | --- | --- |
| week | New Listings | New Pendings | Total Actives | Total Pendings |
| Jan. 2, 2023 | 11 | 6 | 263 | 89 |
| Jan 9 | 36 | 15 | 277 | 88 |
| Jan 16 | 36 | 34 | 266 | 114 |
| Jan 23 | 36 | 22 | 269 | 116 |
| Jan 30 | 32 | 25 | 272 | 123 |
| Feb 6 | 46 | 33 | 275 | 131 |
| Feb 13 | 30 | 35 | 265 | 150 |
| Feb 20 | 43 | 34 | 274 | 158 |
| Feb 27 | 27 | 30 | 260 | 165 |
| March 6 | 45 | 28 | 276 | 150 |
| Mar 13 | 38 | 38 | 274 | 154 |
| March 20 | 39 | 37 | 265 | 164 |
| March 27 | 36 | 25 | 267 | 153 |
| Apr 3 | 37 | 28 | 271 | 143 |
| Apr 10 | 36 | 39 | 272 | 151 |
| Apr 17 | 47 | 27 | 291 | 157 |
| Apr 24 | 46 | 41 | 282 | 167 |
| May 1 | 59 | 31 | 288 | 159 |
| May 8 | 53 | 26 | 310 | 151 |
| May 15 | 48 | 31 | 315 | 157 |
| May 22 | 50 | 24 | 332 | 145 |
| May 29 | 43 | 37 | 325 | 154 |
NSDCC Weekly LP Quartiles
| | | | |
| --- | --- | --- | --- |
| week | 1st Quartile | 2nd Quartile (Median LP) | 3rd Quartile |
| Jan. 2, 2023 | $2,095,000 | $3,695,000 | $5,995,000 |
| Jan 9 | $1,990,000 | $3,495,000 | $5,775,000 |
| Jan 16 | $2,000,000 | $3,574,000 | $5,995,000 |
| Jan 23 | $2,099,000 | $3,595,000 | $5,999,000 |
| Jan 30 | $2,195,000 | $3,525,000 | $5,942,000 |
| Feb 6 | $2,195,000 | $3,598,000 | $6,845,000 |
| Feb 13 | $2,300,000 | $3,795,000 | $6,495,000 |
| Feb 20 | $2,397,500 | $3,950,000 | $6,197,500 |
| Feb 27 | $2,480,800 | $3,970,000 | $6,845,000 |
| March 6 | $2,395,000 | $3,749,500 | $5,995,000 |
| Mar 13 | $2,397,000 | $3,772,500 | $5,997,000 |
| March 20 | $2,580,000 | $3,995,000 | $6,800,000 |
| March 27 | $2,595,000 | $3,995,000 | $6,845,000 |
| Apr 3 | $2,699,000 | $3,995,000 | $6,750,000 |
| Apr 10 | $2,799,500 | $4,074,997 | $6,895,000 |
| Apr 17 | $2,600,000 | $3,995,000 | $6,597,000 |
| Apr 24 | $2,685,000 | $4,074,997 | $6,895,000 |
| May 1 | $2,695,000 | $3,999,000 | $6,495,000 |
| May 8 | $2,525,000 | $3,849,949 | $5,946,000 |
| May 15 | $2,495,000 | $3,749,400 | $5,950,000 |
| May 22 | $2,444,000 | $3,695,400 | $6,000,000 |
| May 29 | $2,495,000 | $3,699,000 | $6,395,000 |